Project name: Denmark SONSERBORG Thermal Station
Equipment selection: 1 unit 2.8MW LiBr Absorption Heat Pump
1 unit 5.0MW LiBr Absorption Heat Pump
1 unit 11.2MW LiBr Absorption Heat Pump
1 unit 16MW LiBr Absorption Heat Pump
Main function: District Heating
Generalintroduction
Denmark is a western industrially advanced country as well as one of the 8 Europe economic countries. Due to the want of the natural resources, Denmark just possesses rare mineral resources except for the petroleum and natural gas.That's why all their coal resources are imported from other countries. Owning to the former reason (lack of natural resources), a strong sense of energy saving has been rooted in their people's mind. Denmark is the first country that proposed the idea of "fossil fuel independent". During the last 30 years, Denmark's economy increased 78%, but meanwhile the energy consumption basically remained constant.
Hope Deepblue has supplied 4 unit hot water fired absorption heat pump with each heating capacity 2.8MW, 5.0 MW, 11.2MW, 16MW and total heating capacity 35MW.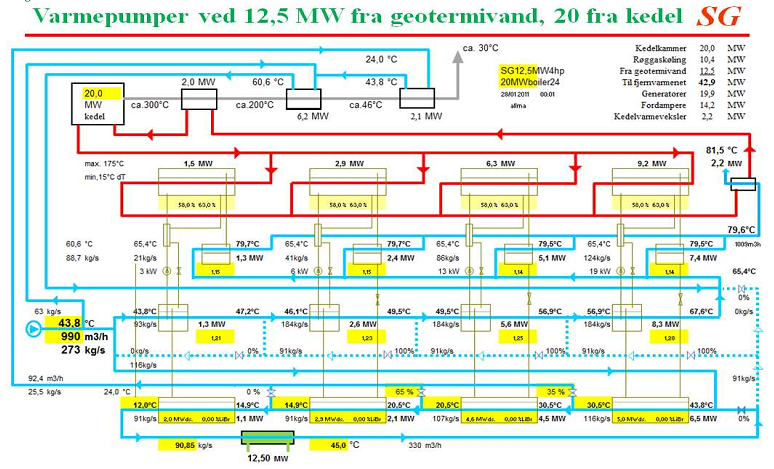 This central heating system is geothermal energy heat pump, using 47℃ low-temp geothermal energy and high-temp hotwater which produced by burning the timber and house hold waste as the heat resource to multistage recover the exhaust heat discharged by boiler, and exhaust emission adopted multistage wet scrubbing to de-dust, then the heat of the circulating water will be totally utilized. In order to use the geothermal energy and heat from boiler efficiently, the temperature of each part should beprecise to 0.1℃, and the temperature and flow rate should be regulated separately to realize maximum heat utilization as well as absorption heat pump efficiency.
The structure of this heat pump system is special. The absorber and condenser are separately controlled with respective hot water output. The flow chart of the pump is complicated with particular control mode.